(Today's celebration is at the end)
I work for Southwest Airlines. That means I can fly for free whenever I want when there is space on a plane. So guess what I did last night?
I flew to New Orleans. Just for dinner. Just because I could.
Me and Laura are the two female BYU interns at Southwest this year. Since we are two of few who don't travel and drink, it was awesome to be able to have a girls' night. And yes, we traveled to New Orleans just for dinner. We left at around 3 in the afternoon and got home around 10 with just enough time in the French Quarter to get a feel for the area and eat some delicious food.
I had so much fun with this girl! We just spent a while walking around, looking at the little shops and stores around. It was definitely different than any city I've ever been in and it probably wouldn't ever be my first choice for a vacation destination, but it was a really fun night and worth all $33 I spent. Yes, I took a vacation to New Orleans and spent a total of $33 on the entire trip. So cool.
It's really an amazing thing to be working for Southwest and have these experiences.
We were going to go to this fancy restaurant but once we found out the wait was too long for our schedule we went a few blocks down to check out what else we could find. We found this cute little restaurant called Montrel's Bistro. The nicest man was standing at the table outside and the menu looked good so we decided to try it. It turned out to be a good decision.
When we were walking to our table a worker said something about two princesses coming to their restaurant and would walk by throughout the night saying things about how he needs to go to Dallas "cuz that's where the pretty girls are at." Very flattered : )
Our waiter was basically adorable - seemed a little shy about serving us but did a great job and was very patient as we couldn't decide what to order. The food tasted great and we had some fun girl story time.
It started pouring right after we finished dinner but our cab was already on its way and we were already headed home. It was so fun and I can't wait to do it again. I even had enough time to hit a few golf balls with Paul after. Who can go to New Orleans for dinner and come home to golf? I'm still pretty amazed by the whole idea.
Now . .
What are we celebrating today?
Belmont Stakes Day.
What does that mean? That means today was a Horse Race Day. The Belmont Stakes is the final race in the series that makes up the triple crown (Kentucky Derby, Preakness, and Belmont Stakes). No horse has won the triple crown (all three races) since 1978. There was the chance for a horse to do it this year but I'll Have Another scratched just days ago. I really wanted to see a triple crown winner . . maybe next year?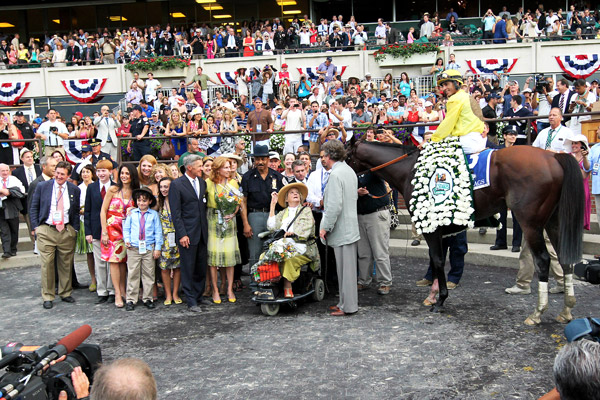 Horses are beautiful and fun to ride. Too bad they smell funny
Luv, Lindsay